I'm a day late for my post for the Pretty Patterns challenge but thankfully the gals at MTME are soooo understanding! I hope that this card is worth the wait!
My Time Made Easy has some new, awesome digi stamps and papers this month. Click here to see the latest! Many are Father's Day theme but there are other sentiments in there too. I love the image I used on my card because we have teased my dad that he's an OLD MAN for YEARS! My dad is a big tease and he named himself the "Old Poop" which was a nickname which Henry Fonda had in a movie called "On Golden Pond". (It's a pretty good movie if you can get past all the cussing.) When I saw the sentiment "To the OLD MAN Happy Father's Day", well, you can see how I couldn't resist using it!
The main image is from the set A Vintage Day for Dad. This is a remarkable set - it has 17 images x 7 because it comes in 7 different colors! The color I used is "Not Quite Navy". What a deal! (especially since MTME is having a sale - 25% off this weekend!)
The paper I used is from Vintage Flourishes Bold. There are several other great new digi papers sets to choose from!
Since my dad is also a golfer I used the image below for the inside of the card.
I have a hint for you that I got from a friend of mine, Dottie. She suggested that if you are having a hard time removing your paper from a die to place wax paper in between the die and the paper. I was having a very hard time removing the paper from the die that I used with the golf image above. I tore the paper when trying to remove it from the die and got quite frustrated at it when I made another one and still had the same problem. I then remembered Dottie's hint so I tried it an viola! It worked! So if you have a die that makes it hard to remove the paper, make sure that the wax paper is in between the die and the paper. I'll do a little tutorial on that in the next few days. I'll take step by step photos so you can see exactly what I mean.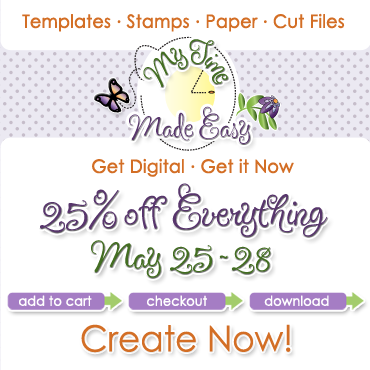 Have a wonderful and safe Memorial weekend!